Bank Negara: Three things that could enhance Malaysia's affordable housing ecosystem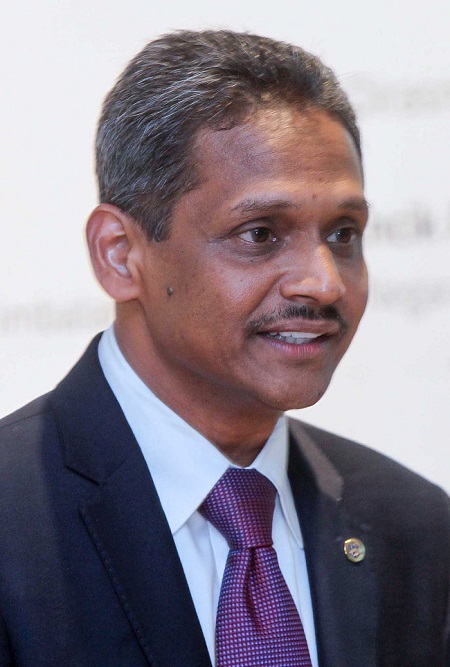 Abdul Rasheed: An integrated database on housing supply and demand is critical — this should provide insights on the needs and preferences of households, their linkages with demographic shifts, as well as housing gaps across different parts of the country. (Photo by The Edge)
PETALING JAYA (July 4): A sound, innovative and coordinated public policy is needed to address the affordable housing challenge, said Bank Negara Malaysia deputy governor Abdul Rasheed Ghaffour in his keynote address at the "Dialogue on Sustainable Development of Affordable Housing" organised by Cagamas Holdings Bhd in Kuala Lumpur today,
He said a central authority could lead, oversee and coordinate affordable initiatives for the nation that would promote greater strategic and operational cohesion at the national level.
The central authority can also spearhead more effective communications and build stronger collaborations with key partners to advance the affordable housing agenda.
Furthermore, "regulatory processes that increase the cost of supplying affordable homes should be reviewed and streamlined.
"Certainly, more can be done to increase awareness and further increase the take-up rates for financial assistance programmes introduced by the government such as Skim Rumah Pertamaku (SRP), Skim Jaminan Kredit Perumahan (SJKP), Skim Deposit Rumah Pertama (MyDeposit), Skim Pembiayaan Fleksibel for PRIMA homebuyers and Skim Pembiayaan Fleksibel (SPEF) for PR1MA homebuyers," he said.
In his speech, Abdul Rasheed highlighted three keys to improve the current affordable housing system. The first one is to have good data.
"An integrated database on housing supply and demand is critical — this should provide insights on the needs and preferences of households, their linkages with demographic shifts, as well as housing gaps across different parts of the country.
"Such data should also be made available to all relevant stakeholders to enable better-informed decisions across the board.
"While for the federal and state government authorities, the database will be useful in supporting housing interventions that are more targeted, more efficient, and better coordinated with other public policies to build stronger communities," he said.
He further noted that with the aggregated view of market conditions, large-scale housing projects can also be better planned and executed.
"This will be key in capitalising on the lower costs made possible through smarter procurement processes and industrial construction approaches, as proven in countries such as Singapore, Hong Kong and Australia.
"It will also enable affordable housing quotas for development projects to be implemented in a way that is more responsive to market conditions, and therefore more practical to enforce," he added.
Secondly, innovative financing models to fund the affordable housing projects have to be developed, said Abdul Rasheed.
He pointed out that the current intervention measures which largely focus on subsidising home-buyers or the direct provision of housing needs to be complemented by new, more sustainable alternatives that combine public and private funding for affordable housing development and investment over the longer term.
"In other parts of the world, public-private partnerships through joint ventures have replaced traditional methods of financing for the supply of public housing.
"Public funding could also be deployed more efficiently to crowd in private capital for affordable housing developments — for example, by providing cost-efficient funding to institutions that finance affordable housing projects," said Abdul Rasheed.
He added that the financing models should also have mechanisms that promote programme efficiency and effectiveness, which include business models that are based on sound commercial principles, good governance and appropriate risk management strategies.
"Schemes introduced could specify minimum technical standards, execution guarantees and other conditionalities for financing or payment. 'Social impact bonds' — which have gained interest in some countries such as the United Kingdom, United States, and Australia — are a useful example.
"These investment structures operate on a 'pay-for-success' model, where the government repays the costs of a programme plus a return, only if pre-defined social outcomes are achieved," he added.
Last but not least, Abdul Rasheed urged all parties to foster more diverse collaborative partnerships with social enterprises, private foundations and non-profit organisations to deliver affordable housing.
He cited Australia and Hong Kong as examples where social enterprises played an important role in building affordable housing units or revitalising existing properties for sale or rental, typically targeted at lower-income groups.
"Notably, such organisations have also been instrumental in encouraging the development of a vibrant rental market as a viable alternative to home ownership. We need to consider how similar models could be developed here and the role of public policy to enable this.
"In the context of rental properties, a robust legal and institutional framework to safeguard the rights of tenants and landlords, mechanism to protect tenancy deposits, and arrangements for dispute resolution have been key success factors for countries that have a thriving rental market," he said.
Furthermore, Abdul Rasheed urged the private sector, especially property developers to explore "rent-to- own" schemes, which was recently launched by the government.
Source : The Edge Property