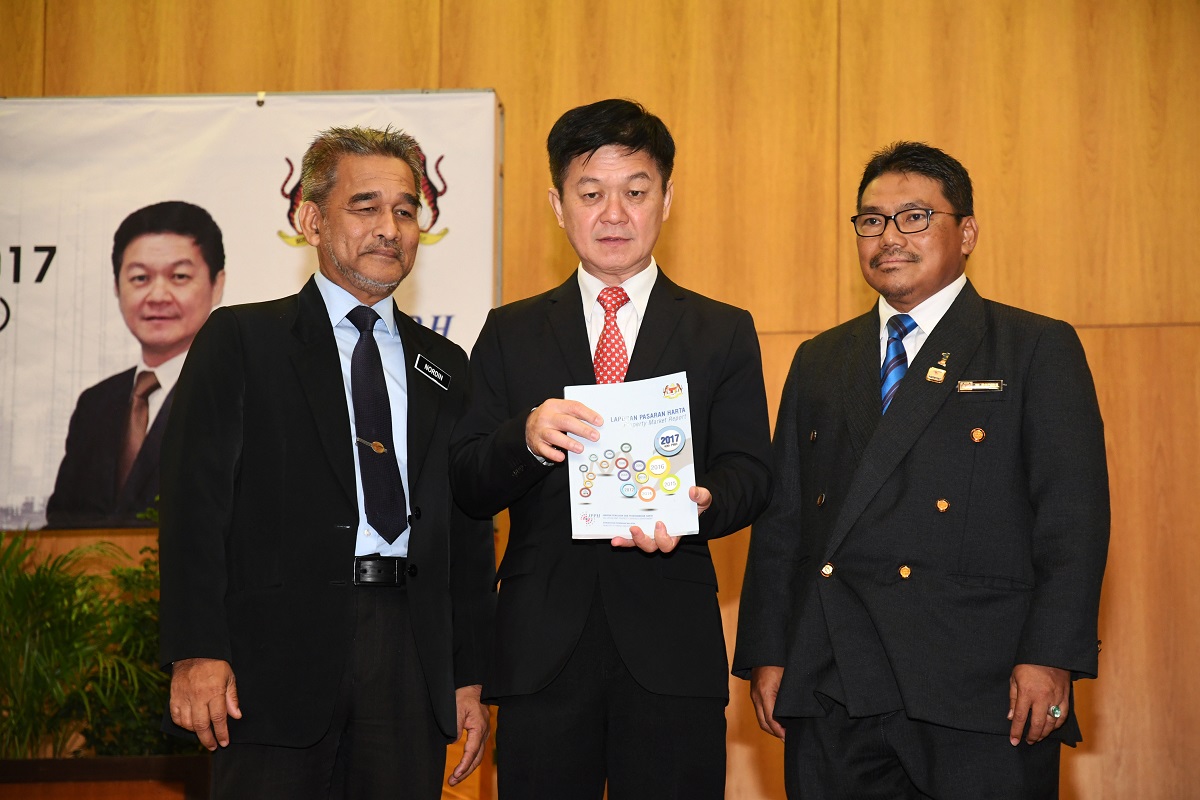 (From left) Nordin, Lee and director of Napic Md Badrul Hisham Awang launching the "Malaysian Property Market Report 2017" today (Photo by Low Yen Yeing/EdgeProp.my)
Johor has again led with the highest number of overhang units.
KAJANG (April 17): The amount of overhang homes has grown by 67.2% to 24,738 units while value grew even higher at 82.8% to RM15.64 billion in 2017, according to the "Malaysian Property Market Report 2017" released by the Valuation and Property Services Department (JPPH) today.
"The growing concern on overhang received wide coverage in recent months, which led to the issuance of future development freeze on luxury properties more than RM1 million in major cities.
* Unsold Property Enquiry System Malaysia launched
* JPPH: Still a challenging retail market
"These overhang numbers which only accounted for those in the residential sector — excluding serviced apartments, Small Office-Home Office, etc — were the highest to be ever recorded," said the report.
Overhang is defined as the residential units which have received Certificate of Completion and Compliance (CCC) but remained unsold for more than nine months.
The launch of the report was officiated by Deputy Finance Minister II Datuk Lee Chee Leong and JPPH director general Nordin Daharom.
In his speech, Lee said that Johor has again led with the highest number of overhang units, occupying a 17.7% share, followed by Penang (15.8%) and Kedah (15.3%).
"Although the overhang situation is not that encouraging, the construction activities have shown some positivity as we see that the amount of new properties that are under construction rose 14.4% and new launches that are under planning rose by 24.5%," he said.
While Nordin commented that the number of overhang units "is still in line with what is being reported", he also said that the take-up rate of new launches is improving.
On residential launches, 2017 saw 77,570 units of new launches, higher than 2015 (58,411 units) and 2016 (52,713 units). However, sales performance was at a moderate 32.6%.
While the secondary market has achieved 194,684 transactions worth RM68.74 billion, down 4.1% in volume but increased by a marginal of 4.4% in value, as compared to 2016.
The housing demand continued to focus on homes priced at RM200,000 and below, which accounted for nearly 45% of the residential market volume.
"The affordability of homebuyers within this price range (RM200,000 and below) is clearly displayed across Malaysia except for Kuala Lumpur and Putrajaya. This is an indicator for developers to use it as a guide in order to come up with properties within this affordable range," said Lee.
Overall, the Malaysian property sector has recorded 311,824 transactions worth RM139.84 billion in 2017, down 2.7% and 3.8% in volume and value, respectively, when compared to 2016. The overall property sector continues to be supported by residential properties (62.4%) followed by agriculture properties (22.5%).
At the same event, JPPH also launched the Unsold Property Enquiry System Malaysia (UPESM) which would enable local authorities and homebuyers across Malaysia to access details and interactive information on unsold homes.
Source : The Edge Property