Property managers will now be regulated under BOVAEP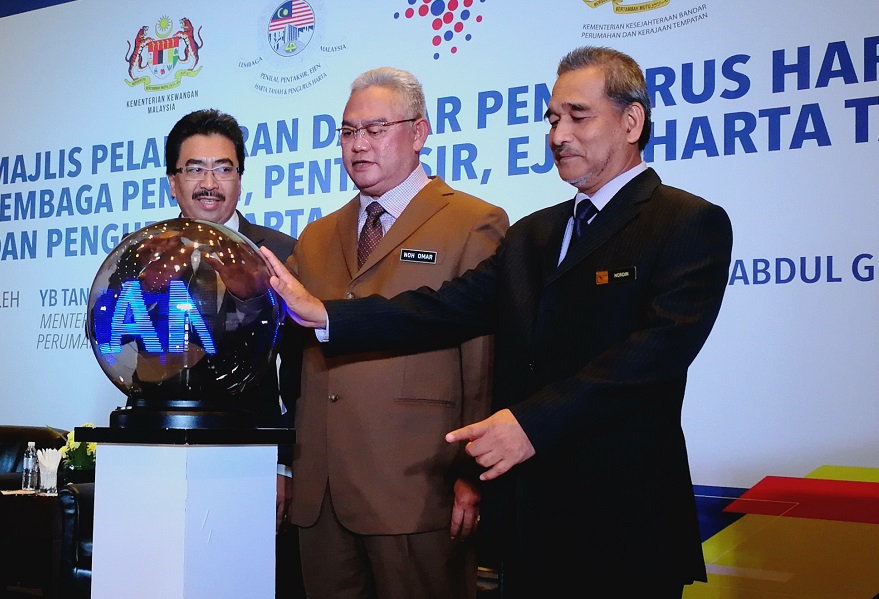 (From left) Johari, Noh and Nordin at the launch of the property managers' registry. (Photo by Shawn Ng/EdgeProp.my)
KUALA LUMPUR (Jan 11): With the amendment to the Valuers, Appraisers, Estate Agents and Property Managers Act 1981 that was passed on Oct 17, 2017 and gazetted Jan 2, 2018, property managers are now required to register themselves with the Board of Valuers, Appraisers, Estate Agents and Property Managers (BOVAEP).
Previously known as the Board of Valuers, Appraisers, Estate Agents Malaysia (BOVAEA), BOVAEP will now regulate registered property managers for strata properties in Malaysia.
According to the Minister of Urban Wellbeing, Housing and Local Government Tan Sri Noh Omar, there are 19,923 strata developments, with more than seven million people currently living in strata communities.
"Strata living will be the future lifestyle of Malaysians as land cost will increase and land is scarce nowadays, leading to more vertical developments.
"Hence, holistic control and regulation are needed not just in the development aspect but also for property management," Noh said during his speech at the launch of BOVAEP today.
The launch of the registry was jointly officiated by Noh and Minister of Finance II Datuk Seri Johari Abdul Ghani as BOVAEP is a joint effort between two ministries under the National Blue Ocean Strategy (NBOS). BOVAEP is under the purview of the Ministry of Finance.
Prior to the amendment of Act 242, the act allowed only registered valuers to conduct property management.
Meanwhile BOVAEP president Nordin Daharom noted that the amendment of Act 242 took less than 13 years.
"The responsibilities of the property manager are indeed very challenging because they will need to manage all kinds of situations, and be wise with various parties apart from possessing technical expertise to solve problems.
"It is of emphasis that property managers need to be 'Jacks of All Trades' to maintain that respect for the profession," Nordin said in his welcoming speech at the launch.
According to Nordin, BOVAEP will provide training courses to registered property managers to ensure they have sufficient knowledge in related laws and regulations as well as standard practices.
"Through our training, property managers will be introduced to systematic record and financial managements so that they can present their financial records when required by the JMB [Joint Management Body] as well as ways to handle evictions and other cases related to property management.
"Property managers will also be introduced to the latest edition of the Malaysian Property Management Standards that could help them have good property management practices," he said.
In 2017, of the complaints on mismanagement and malpractice received by BOVAEP, only 10 cases involved registered property valuers while 116 cases involved illegal practitioners, said BOVAEP.
Noh added that complaints from the strata community to the Commissioner of Buildings (COB) had amounted to 16,394 in 2016.
"These problems [maintenance and management issues] are not limited to property developers but to Joint Management Body and Management Corporation (MC) as well.
"This shows that property management has to be conducted professionally to ensure quality management. To that, the amendment of Act 242 will be a new beginning to enhance property management standards for the benefit of the strata communities," Noh said.
Upon the launch of the registry for practicing property managers, they are given a one-year grace period starting today to register themselves with the board as recognised professionals by filling in Form C which can be obtained from http://lppeh.gov.my/WP2016/forms.
According to the deputy director general of Valuation and Property Services (Operation) Dr Zailani Mohd Isa, there are about 5,000 illegal or unregistered property managers in the country, based on BOVAEP's estimation.
"There are currently about 1,200 registered property managers/valuers now and we hope all 5,000 unregistered property managers will register themselves with us in over these 12 months," she told reporters at a press conference after the launch of the registry.
She said the grace period was offered to allow property managers with good track records to be regulated by the board.
"Beyond this one-year grace period, property managers will have to go through a very stringent process to have themselves be formally recognised under BOVAEP which involves the requirement of a degree in property management as well as formal training under a registered property manager.
"The registration of property managers is a liberalisation of the property management exercise. Everybody can enter the industry now, provided that they meet the criteria set by us. Before that, only valuers can conduct property management but now it is opened up to all," she added.
Member of BOVAEP Kamaruzaman Jamil agreed, noting that the window period is opened to every property manager with a good track record.
"We are not depriving them [of the chance to be formally regulated]. We believe that this is a profession that must be regulated. Under the board, we have a modus operandi to investigate complaints lodged by the public," he said.
The penalties that will be faced by unregistered property managers include admonishment, suspension and fines from RM10,000.
Kamaruzaman added that the police will assist BOVAEP in conducting investigations and seize the relevant businesses or detain said people should an unregistered property manager be found to be conducting property management.
Besides being recognised as certified property managers, under the registry, property management firms that are run by registered property managers will be exempted from the RM50,000 bond to manage a strata development.
Meanwhile, strata homeowners can complain to BOVAEP by emailing [email protected]
Source : The Edge Property